WNBA Semi Finals Preview:
Washington Mystics
The Mystics have, somewhat surprisingly, found themselves in the semifinals. In her first year, a finally healthy Elena Delle DOnne has led the team to the third round for only the second time in franchise history. can this magical ride continue? Only if Delle Donne's teammates all step up. Here's who she's counting on.
The 2015 MVP was having a typical excellent season before she injured her hand in July. The Mystics have coalesced nicely around her since she returned a couple weeks ago. Two big playoffs wins (the most for D.C. since 2002) proved what a gameplan centered around Delle Donne can do. When Tolliver went off against the Liberty, she held her own against Tina Charles, scoring 18 points and grabbing ten rebounds. When she's crashing the boards and getting second chance shots, her team is usually winning.
She missed the beginning of the season playing in Belguim, but since July 5th, she has been fantastic. Her ability to shoot threes forces opponents to cover her outside, creating valuable mismatches. She was supposed to be the offensive juggernaut before Delle Donne came to town. Together, these forwards are just plain scary
She has an easy job with Delle Donne and Meesemen playing around her: just defend the paint. Her four blocks in the playoffs and 17 rebounds against Dallas prove she's got her role down pat.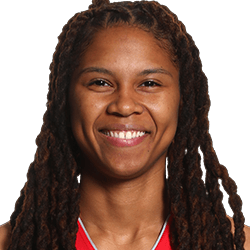 She's scrappy. When you have three offensive stars, the other starters must focus on filling in the gaps as role players. She's done that nicely. On Sunday, she only scored 4 points but pulled down 9 rebounds, dished out 4 assists, and grabbed 3 steals. If she can play like that all series, the Mystics would be humming.
After winning a championship last year with Los Angeles, her first season with the Mystics can only be described as inconsistent at best. Her season high of 29 points against Atlanta July 19th was bookended with single-digit disappointments. But she dropped 20 against the Lynx in the season finale before scoring 16 in the first round despite a dismal 1/9 from beyond the arch.
She exploded against New York. Toliver set a playoff and regular season record draining 9 three pointers and scoring 32 points. She must continue this hot streak for the Mystics to keep up with the Lynx.
That screaming you hear from the sidelines? That's her. It's not about her play that sets her apart - it's that she can really control the team's emotions and inspire them to hit another gear. She's a shooter and always plays tough defense.