In Seattle, Im the Mamba with the rock
By Charles A Smith JR.
🎧 Magnolia by Playboi Carti🎶
[Cues Music] "Ayo KOBE! You want to come out here!?"
Have you heard about this hooper out of Chicago (where folklore says a certain great who inspired you played, *coughs*)? She reminds me of Dwyane "Flash" Wade if you ask me. However, she said she idolizes you. 🤔 (https://youtu.be/EhBr2fhDr5k) Jewell Lloyd definitely has your Mamba 🐍like focus and she has done whatever it took to get to this point in her career. My only questions are: 1) Why haven't you hipped us to her, and 2) Does she really have Mamba blood?
Now I know Diana Taurasi is considered the Mamba of the W, but have we found the latest in the evolution of the species? I had fun dissecting the female #24's play on the court, as well as her marketability off the court with respect to the maintenance of Seattle basketball. From what I have gathered, Lloyd's showcases her drive by making game changing plays for an already talented Seattle Storm roster. No matter what side of the ball she's on, she picks her spots well and makes an impact . Lloyd knows when to attack offensively, or how to stifle the opposing guard with her athletic ability around the rim. Her 3.7 boards per game complement the 16.9 points she's scoring per game - a career high.
Speaking of that talented roster, for three years Jewell has been under the tutelage of one of the top 15 players in the W's history: Sue Bird. Lloyd has not only been able to complement Bird's playmaking ability with her aforementioned scoring, but she matches Bird's IQ as viable option when the veteran is off the court. Did I mention that both are on a roster with last year's #ROY recipient in Brianna Stewart? Lloyd and Stewart, once collegiate rivals vying for Player of the Year honors, now together bolster a Seattle Storm roster ranked fourth (9-10) in the West as of this writing. #KUDOS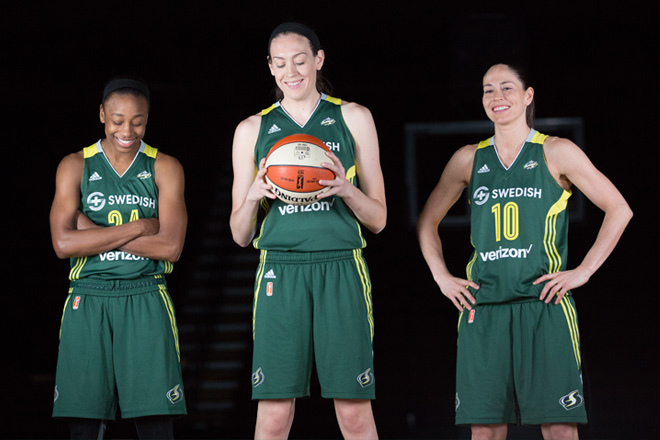 "Personally, I've appreciated the basketball hotbed of Seattle"
Now that I think about it, what does all this mean for Seattle basketball? Personally, I've appreciated the basketball hotbed of Seattle that includes participating in a very good pick up game, watching or playing in Jamal Crowfard ProAm league or to stop afterwards at Nate's Wings & Waffles. These things all happen around the love of basketball and clearly Seattle has a lot of it! So, the cards once held by the ghost of Reign Man and The Glove's past are now in the hands of a top 15 legend, a newly discovered Mamba from Chicago and a Do-it-All Forward. I guess in the Emerald City they Milly Rock too! #LOVE #HEM
Charles A. Smith Jr.
Contributor
WNBAinsidr, Los Angeles